1986 Ranger XLT Winter Beater...

Here's a few pics of my 1986 Ford Ranger XLT Supercab 4x2. I bought it as you see here in primer needing a fair bit of work to get it mint but I paid $1500CAN for it so for the money it was a good deal. It's a solid truck. It has power windows, power door locks, A/C, 5 spd., 2.9L V6, dual fuel tanks, and deluxe cloth interior.

I'm going to keep progress pics on here so see below.

BELOW: A pic of how the truck looked when I bought it.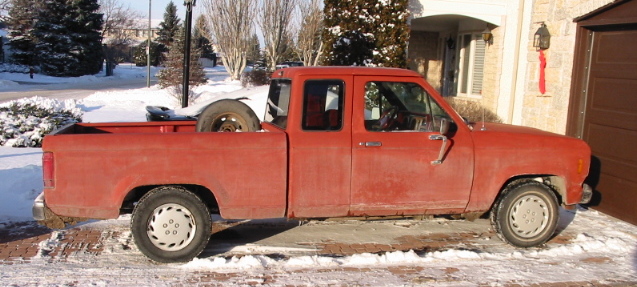 BELOW: Here's pics of the 15" rims I pulled of a 4x4 Ranger at the junkyard and my new tires(215/75R15s). I paid $60CAN for the rims, black center caps(not on yet), and chrome beauty rings(not on yet). I just need to paint the rims and they'll look brand new! The stock ones above were 205/75R14s which looked like crap and had NO snow traction. Notice the difference in wheelwell gap from the 14s to the 15s. The 14s w/tires measured ~26" high, the 15s w/tires measure ~27.7" high.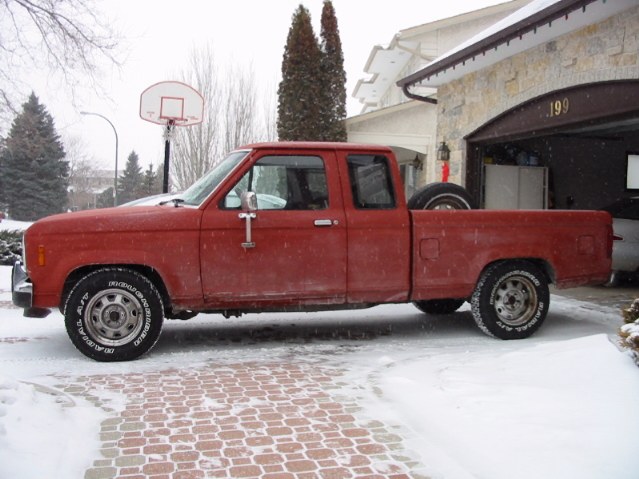 BELOW: Here's a shot after a friend and I installed the stock rear leaf blocks taken from the same Ranger 4x4 I took the rims off at the junkyard. I didn't pay anything for them but did have to buy longer axle U-bolts to install them which cost me about $30CAN. Still, it raised my back end by about 3 inches!! In the pic above you'll notice the rear tire was actually in line with the fenderwell. Now the top of the tire is about 3" from the bottom of the fender!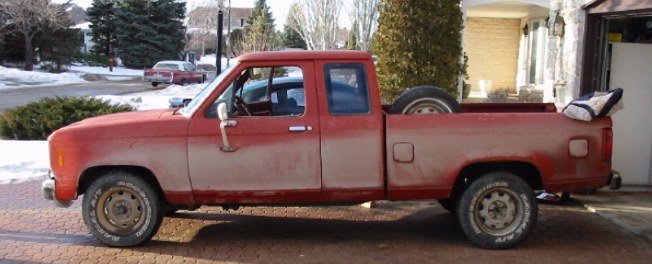 Next up will most likely be front coil springs from a 4.0 V6 Ranger wich I've been told will raise my front by about 1-1.5". I can grab them for $50CAN or I might just go with some homemade washer spacers to make the ride height even. We'll see.
Later...