Stallion Motorsports
YOUR CANADIAN MUSTANG WEBSITE


John L's 1995GTS

| | |
| --- | --- |
| Track | |
| E.T.(1/4mile) | 14.1 |
| mph | 99 |
| 60ft. | 2.4 |
| Reaction time | |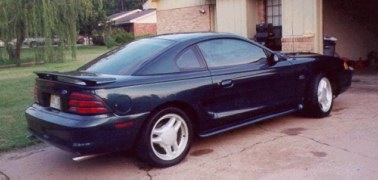 This is John's 95GTS, 1 of 1002 in Deep Jade green with black and tan interior. (The wing was added by the original owner) With the few mods John does havehe's doing really well at the track. As shown above, he's run a 14.1@99mph and judging by the 1/8th mile times he has run, high 13s should be possible! This car weighs only 3200lbs w a half tank of fuel and the jack, spare and all that intact! Just goes to show you how much of a pig a standard GT is.
Engine

Body/ Chassis

Accessories

Mac Off-road H-pipe

Mac Lowering Springs

2 cham. Flowmaster Mufflers

275/40R17 Egale F1s

(suck bad)

Homemade CAI (cold air intake)

3pc Steeda Clutch cable kit

Smog Pump Delete

3.73s

Nitto DRs

Here's another couple shots of John's GTS...love that Jade Green. He'll be sending some better pics ASAP that will hopefully show the color much better.

Future Mods

coming up with ideas
Let's see what she'll do with some tires and gears...