Stallion Motorsports
YOUR CANADIAN MUSTANG WEBSITE


Chris' 95GT

| | |
| --- | --- |
| Track | California |
| E.T.(1/4mile) | none yet |
| mph | |
| 60ft. | |
| Reaction time | |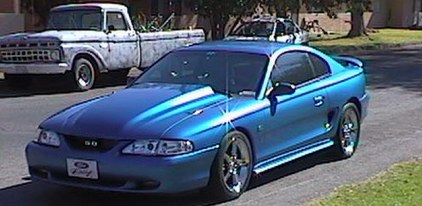 Dyno'd 344rwhp...377rw trq with NO tune...1 power run!

Engine

Body/ Chassis

Accessories

Vortech S-Trim(8lb) Kit

Adjustable FMS Clutch Quadrant

White Faced guages..Indiglo at night

4" Chrome Power Pipe

(boost increase to 9lbs)

Stage 2 SPEC Clutch




Full Carbon Fiber Interior




Edlebrock Performer RPM upper/lower

B&M short throw Ripper shifter

Projection Headlights w/blue "HID" bulbs

New shocks/struts (OEM)

Clear Diamond Corners

Crane Gold 1.72 Roller Rockers

3.73 FMS gears w/Saleen speedo gear

Mesh grill inserts in grill and frnt bumper opening

Edlebrock "Tall" Aluminum Valve Covers

17x9 Chrome Cobra R 275/40rear 245/40 frnt

5.0 emblem in grill..instead of pony

36lb SVO injectors

Cobra RR Hood

Auto Meter Boost Guage

75mm Chrome Pro-M MAF(cal'd for 36lb inj and supercharged application)

Weld Draglites waiting for slicks 15x4 frnt and 15x8 rear (track wheels)

MSD Boost/Timing Retard

(mounted in astray..see pic)

MSD 6A Ignition Box

MSD Cap, Rotor, and Coil

Ceramic coated 1 5/8 BBK shorty unequal headers

Serious stereo

BBK/Edlebrock 70mm TB

2 1/2 offroad H-pipe

Flowmaster mufflers

FMU recal'd

Inline T-Rex fuel pump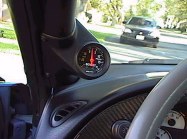 Future Mods

Custom burnt Dyno tuned chip

Edlebrock Stage 3 ported Alum heads 2.02/1.60

Not sure which Cam..but one is coming

New Headgaskets so that I can handle 12lb pulley

Upgrade S-Trim to the 12lb pulley I have waiting

Adjustable Fuel Pressure Regulator

255 intake fuel pump

Suspension..suspension and more suspension is in the future/shocks/struts, subframes, caster/camber, springs!! Suspension is #1 opn my list right now! Slicks by the end of this month to go on the Welds I have waiting!