Stallion Motorsports
YOUR CANADIAN MUSTANG WEBSITE


Roscoe's 95GT

| | |
| --- | --- |
| Track | Bowling Green, KY |
| E.T.(1/4mile) | |
| mph | |
| 60ft. | |
| Reaction time | |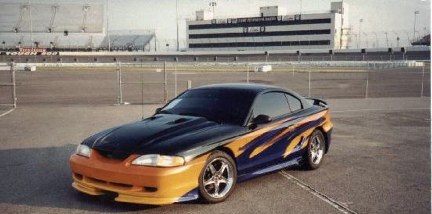 Here is Roscoe's 95GT. Nice Ride!
"I had a small set back, the hood flew up on my car and did $1800 dollars worth of damage. But, never the less, all it hurt was the hood and the roof. Oh, and also my pride"
- Roscoe
Damage pick...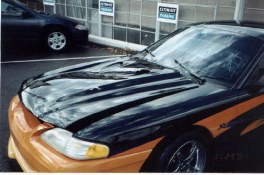 Engine

Body/ Chassis

Accessories

Cold air intake

4.10 gears

Custom paint job

75mm Pro-M MAS

17x9 Cobra R's (front),

17x10 Cobra R's (rear)

Cincinnati Composites hood

#24 injectors

Roush front skirts

FMS B-cam

Sanja fuel tank cover

Pete Jackson

noisy gear drive

Sanja rear smoothed bumper

Adj. fuel pressure reg.

White face gauges

190lph fuel pump

Phantom 10,000 RPM tach

MSD 6AL ignition box

Fuel pressure gauge

Equal length headers

Water temp. gauge

Borla side exhaust w/SVO side pipes

Air/Fuel ratio gauge

Oil pressure gauge

Click on the images below for full size...

All I have to say is this is one DAMN good looking Stang! I normaly don't like custom paint that is all milt-colored and that but this paint job looks VERY GOOD!!
- Chris(webmaster)