Stallion Motorsports

YOUR CANADIAN MUSTANG WEBSITE


Chris' 95GT

| | |
| --- | --- |
| Track | Manitoba |
| E.T.(1/4mile) | 14.02 |
| mph | 98.42 |
| 60ft. | N/A |
| Reaction time | .818 |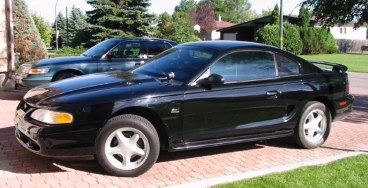 I am the webmaster of this site and this is my ride. Above is a picture taken during the summer of 2001. Not the clearest pic. It looks all stock on the outside but what's underneath is what I'm working on. Only thing you can see from the outside is the cowl mounted fuel pressure gauge.

Engine

Body/ Chassis

Accessories

TFS Track Heat intake

UPR Blu Thunder shifter

Windows tinted (35%)

TFS Twisted Wedge heads

(box stock)

Front sway bar removed

Shorty antenna

TFS Stage 1 cam

Nitto DRs 245/50R16s (rear)

Mobil1 synthetics throughout

1.6 Scorpion roller rockers

4cyl. front springs(not in)

Autometer 2 5/8" mech. fuel press. gauge (cowl mounted)

FMS 65mm TB

Stock MAF and #19s

Kirban AFPR

Mac 1 5/8ths shorty headers

Mac cat-back w/ Flowpaths

Home made cold air intake (3") w/ K&N

Smog pump removed

Mac H-pipe

My new Autometer fuel press. gauge as of Aug/01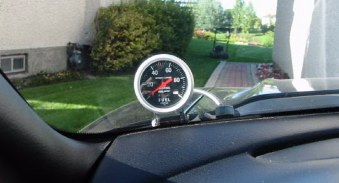 Engine pic below. This is a recent pic of my engine bay. You can see my sustom cold air intake pipe that I made for really cheap!! Take a look in the Tech Articles to see how you could make you own.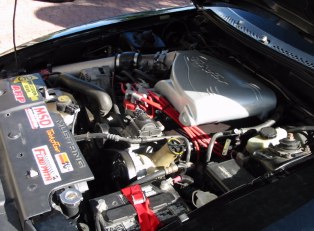 I've owned this car since November of 1997. I bought it used with approx. 43,000 kms on it fully stock. I have slowly added to my car year after year, piece by piece on a very tight budget! I'm a university student (and we all know how much that costs!). I only have a part time job during the winter, full time in the summer. I added exhaust and the 3.73s which netted me a 14.8@93mph. Slow I know but it was the first time at the track ever on stock 225/55R16 BFGs and the 3.73s out back. That equals WHEELSPIN!!! Then again, a stock 94-95GT runs approx. 15.2Xs so for the mods I had that was about right. For the spring of 2001 I plan on getting into the low 13s. Update! as of Aug, 2001 my best time has been 14.02@98.4mph. That day it was hot and humid as it could ever be(33*C and I guess the humidity was at least 75%) We also had a pretty strong headwind and my driviing sucked. With all those crappy conditions I will be solidly in the 13s and with some practice it should be LOW 13s.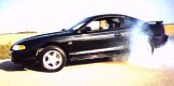 Future Mods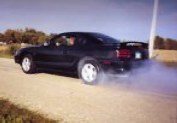 Lakewood 50/50 shocks
subframe connectors
delete backseat(custom hand-made kit)
relocate battery to trunk using a Taylor box