Stallion Motorsports
YOUR CANADIAN MUSTANG WEBSITE


James' 95GT

| | |
| --- | --- |
| Track | New Orleans |
| E.T.(1/4mile) | |
| mph | |
| 60ft. | |
| Reaction time | |


Here's how James's car looks present day. Scroll down to look at the what it took for James to get here. Don't forget to look in the
Tech Articles
section to see his contribution. A great write-up with pics showing his GT-40 intake, TFS cam, and AFR head swap!

Take a look here at James' Dyno Page...
Engine

Body/ Chassis

Accessories

AFR 165cc heads

1.5" Eibach lowering springs

Painted brake calipers to match car

TFS #1 cam

Sub-frame connectors

Sony separates in the front

GT-40 intake

(ported by Ed Curtis)

17x9 Chrome Cobra Rs (replicas)

Sony 5x7's in the back

Edlebrock SN95 adapter (ported by Ed Curtis)

B & M Ripper shifter

8" Bazooka Bass Tubes in the trunk (2),

1/2" plenum spacer

4.10 rear end gears

Excalibur alarm (but really protected by Smith & Wesson:)

73mm C & L

Mass Air Meter

Mobil Synthetics throughtout

24lb. injectors

Engine bay painted flat black from previous green

Aeromotive FPR

Walbrow 255lph fuel pump

Custom Cold Air Pipe

w/ K&N

BBK 70mm throttle body

1.7ratio roller rockers

Underdrive pulleys

180* thermostat

FMS 9mm wires w/ brass cap & rotor

1 5/8" shorties

2 1/2" off-road H-pipe

Flowmaster 2 chamber mufflers

Timimg @ 16*

All EGR equipment removed w/ shortbelt

Custom JMS chip (dyno tuned)

Here's a pic of James's car when he first got it compared to present day. WOW, what a change! As you can see James has put a lot of work into his car.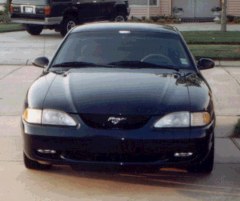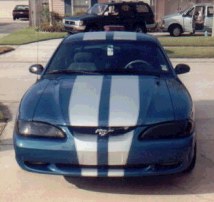 The main reason I painted the car the way I did is because I hated the fact that my car looked like every other Stang around. I was one of the first to have the emerald green in New Orleans. Then I kept seeing more and more green ones just like mine. So I put on the chrome ponies. Eventually there were green Mustangs with chrome ponies riding around town just like mine. So that's when I started saving up some cash for a paint job.
I spent approximately 6 months looking at possible colors and combinations before settling on the blue and silver. I saw that there were aftermarket sticker stripes that were available, but I didn't want big ass sticker stripes on my car. So I had them painted on. My buddy Chris, who owns Rocky & Stymie's Body Shop, gave me a great deal on my paint job. He's the only other person who knows the paint codes I used. Sure enough, over the past year I've been seeing a couple of Mustangs with very similar paint jobs riding around. But their colors are not quite the same. I suppose imitation is the greatest form of flattery.
I decided on the chrome Cobra R replicas because of the price. I wanted the real ones, but the replicas came with tires. At the time I bought them, I still had the chrome 16's. I really like the replicas, but they're a bit on the heavy side.
After about 7 months of researching heads, cams, etc., looking at what was working for guys and what wasn't, I finally decided on my current set up. If I could have afforded it, I would have gone with an Ed Curtis cam. But the TFS1 was #2 on my list, and it's a great cam.
As far as the history of the car, the pics show most of it. When I bought it in Dec. 1995, it was a Demo model that had 6,532 miles on it. As soon as I saw it I knew I was going to buy it. It was really hard to find any 5 liter SN95's. All the dealerships had were 96's w/ the 4.6. After I drove the 4.6, I knew I didn't want one. The only things I wish my car had are black leather seats and a rear window defogger. Who knows, I may end up with the black leather anyway! To date I have 37,600 miles on the car. And only approx. 300 with the new engine parts. This car got me home on the holidays when I was in the Air Force, so most of the miles are highway miles. Now she spends most of her time in the garage under a car cover, and only comes out to play when the weather is nice.
James
Here's my car one week after I bought it (bought it on Dec. 22, 1995).
Shown with my first mod, tinted windows, 10hp:)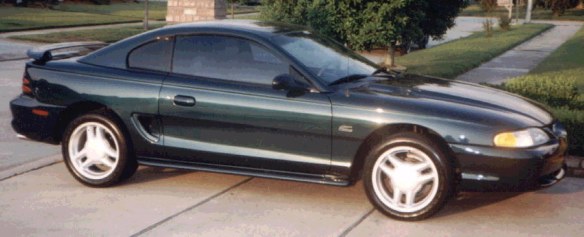 Mod #2, chrome 16" ponies. Knocked off close to $600 in the 1/4 mile:). 17" tires were getting expensive. So the folks at Mustang Parts Specialties gave me a good deal on a swap!

And the final pic with the new paint and the Cobra R replicas!

All of the pics look great but I do think this last one says it all. Great car James!
I would like to thank everyone who made this job possible:

My mom, for giving up the garage and letting me do this.

My UPS guy, for getting me all my parts here in one piece.

Mr. Muller at Muller's Hardware, "Mr. Muller, I need 1 of these thingies, 3 of these thing-a-ma-bobs, and match me up these nuts and bolts for me please".

Tommy at Lamarque Ford, for getting me "shop" prices on my parts.

Ray at AM Racing, for tech advices and coming over after work.

My Haynes manual.
Future Mods:
Ignition mods
Nitto drag radials